Hi there, we're Annabel Burn and Rob Katschmaryk, the proud founders of Woofs of Wimbledon. Check out our daily walks on instagram
🐕🐕🐕🐕🎥 @woofsofwimbledon
Our passion for working with dogs is what inspired us to start Woofs of Wimbledon in the first place. We're based in the beautiful area between Wimbledon Common and Richmond Park, in the heart of South West London. It's the perfect location for us to take our furry friends out for a stroll and enjoy the great outdoors.
Our dog walking and training business has been up and running since 2009, and we couldn't be happier with how it's grown over the years.
We believe that being a dog walker is the ultimate dream job. It's an opportunity to spend your days surrounded by lovable pups who bring joy and happiness into our lives. That's why we're committed to providing the highest quality dog walking and training services to our clients.
At Woofs of Wimbledon, we understand that every dog is unique and has their own individual needs. That's why we tailor our services to suit each and every one of our four-legged clients. Whether it's a leisurely walk around the park, or more intensive training sessions, we're here to provide the care and attention your dog deserves.
So if you're looking for a trustworthy and reliable dog walker in South West London, look no further than Woofs of Wimbledon. We'd love to meet you and your furry friend and show you just how much we adore working with dogs.
Annabel Burn
Annabel has been looking after animals (including horses, goats, and chickens) all her life and loves training dogs. She has the CIDBT full behaviour and training qualifications, is both APDT and DTC trained, as well as currently working under the Kennel Club Instructor scheme. Annabel also loves taking her dogs to weekly agility classes in the evenings and competitions some weekends. Check out Annabel's personal takes on dogs and life on the Huffington Post – and on our blog page.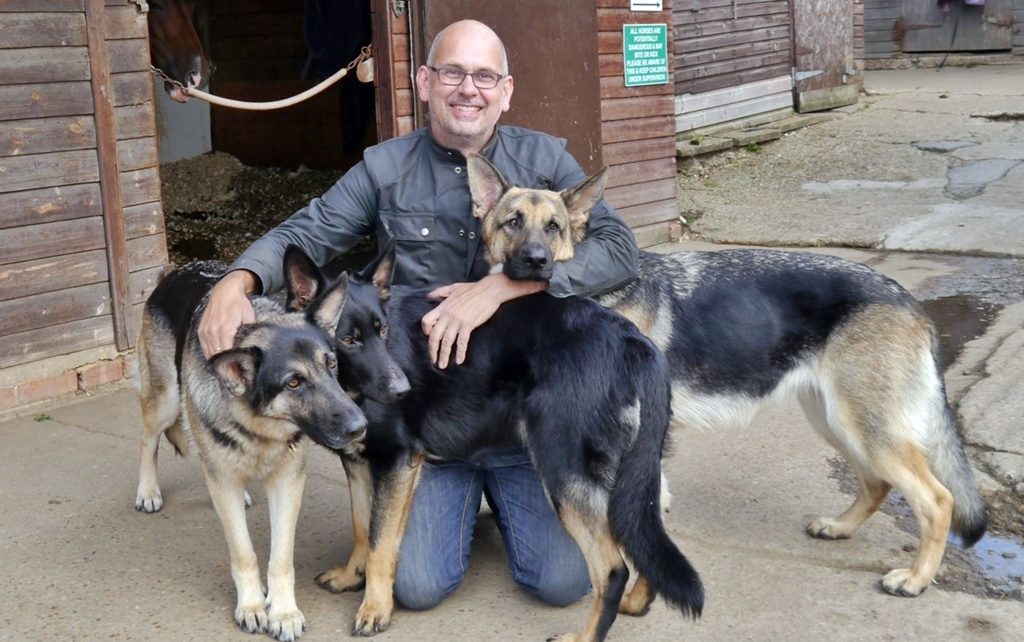 Rob Katschmaryk
Rob has been trained by the Battersea Dogs Home where has been volunteering since 2012. He used to be a celebrity Booker for television until working at Battersea Dogs Home in his spare time converted him into a dog lover. Rob also works as a volunteer for the Vizsla Rescue as a rehoming vetter.
Testimonials
We've used Woofs for our mini dachshund for about 5 years until we recently moved out of london and couldn't recommend them highly enough! We know he loves spending time with Annabelle and Rob as he goes ballistic when he sees them! We previously used other day care companies, but really like the structure of having walks during the day, followed by time to relax at home – rather than just playing in a field all day.  Woofs are totally flexible and have saved us on many occasions when we've been stuck. 
Milo particularly loves the resident dogs Roddi and Kuba and is certainly missing them since we moved.
I highly recommend Annabel and Rob for looking after your beloved pet. They are highly responsible, dependable, and caring. Their love for animals shines through in the way they interact with Monty, making them a perfect fit to take him for long walks and provide excellent care in my absence.
They both have a great understanding of canine behavior and are highly skilled in handling dogs of all sizes and temperaments. With years of experience in dog walking and training and a genuine passion for animals, you can rest assured that your pup will be in the best hands possible. They always put the safety and well-being of their furry clients first. Their excellent communication skills and attention to detail make them easy to work with, and you can trust that they will always arrive promptly and provide regular updates or videos of your pups' activities on daily Instagram stories which all the family love watching!
"For Annabel, dogs are her vocation, this isn't just a job. I found Annabel on line and from day 1 she was knowledgeable, caring and clearly expert – asking me all the right questions from our first e mail. Annabel recognized I was worried about handing my girl over to a stranger back then, but her approach inspired confidence in me as Monkey's mum, as I take her adoption and care very seriously — so that I knew my girl would be safe as well as getting vital daily exercise and more fun than any gal can handle, when I have to work.
"In Annabel, I have found someone in whom I have 100% trust – she is reliable, mature, and has a knowledge of and love for dogs, that both we humans and her beloved dogs, feel and benefit from. Monkey watches the door intently awaiting her arrival and comes back tired and happy."
Woofs of Wimbledon are such a great doggy day care. My dog Sally has been going to Woofs for 5 years now and she loves it. Annabel and Rob treat the dogs they care for as if they are their own. They have taken the time to get to know Sally, understand her, and integrate her into the Woofs pack. The fact she sprints to the door when they arrive to pick her up is testament to the fact she loves them as much as they love her. They are flexible and always try their best to make sure they are doing the best for the dogs they are responsible for. I would recommend Woofs to anyone who wants the best for their dogs, they are amazing.